This year will be the first time I'm going to a Seder where nearly everyone breaking Matzo is vegan. The host messaged me a few days ago asking for vegan Passover dishes and, well, I was at a loss since 1. I'm not a cook; and 2. my natural response would be to send links to restaurants in Las Vegas to cater, but vegan and Passover is a pretty niche market. So, instead, I tapped into the amazing vegan recipe blogosphere to see what the talented cooks are making in their kitchens.
Before we dive into some recipes for Passover, let's talk the Seder plate: swap the lamb shank for red beet and the egg for avocado. Or, if you want to get super culinary, order up some V'egg yolk and make a hard-boiled vegan egg.
And, in case you love Manischewitz wine, you're all set — it's vegan. I know you were really hoping it was.
Vegan Matzo Ball Soup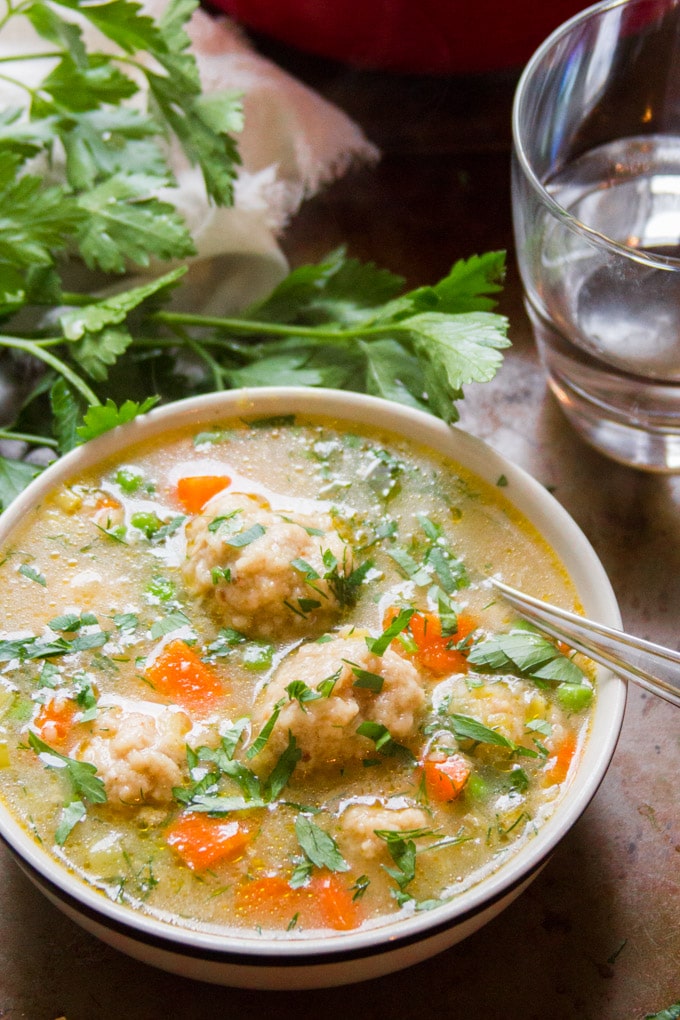 Forget needing egg to bind those matzo balls, Connoisseurus Veg shows us how to make this hearty vegan matzo ball soup with chickpea flour instead.
Vegan Gefilte Fish
Yes, you can veganize gefilte fish. PETA shares this recipe for vegan gefilte fish made with potatoes, eggplant and matzo meal. And, it's slime free.
Potato Kugel Cups
Vegannie has this low-calorie recipe for fat-free vegan potato kugel cups to share with guests. They're also gluten-free and oil-free so you can bet I'm going to devour these!
Latkes
I've never had latkes as a part of Passover, but seeing as I didn't have any for Hanukah, I'm sharing this so someone makes them for me. Strength and Sunshine's vegan potato latke recipe is easy — they take about 10 minutes from start to finish (cook 'em in your air fryer) and are gluten-free.
Pin it!
Diana Edelman is the founder of Vegans, Baby and has emerged as the face of plant-based dining in Las Vegas and the leading plant-based restaurant consultant in the city. She spent a decade in the travel blogging world before switching gears to work in elephant rescue in Thailand. Diana travels the world to meet chefs and try vegan food, as well as speak at events focusing on travel, tourism, veganism and entrepreneurship. She's a partner with the prestigious James Beard Foundation and curates their Vegas Vegan Dinners at the James Beard House. Diana is also a partner with Life is Beautiful, curating the all-vegan Farm Stand.