MTO Cafe has two locations in Las Vegas, both of which have a few vegan food options on the menu. Like, a legit few. However, the few they have are good. Like, legit good.
Start your day at MTO Cafe with some vegan pancakes. These bad boys are made with carrots and coconuts and topped with pecans and agave. Any other breakfast item, you're SOL. Sorries.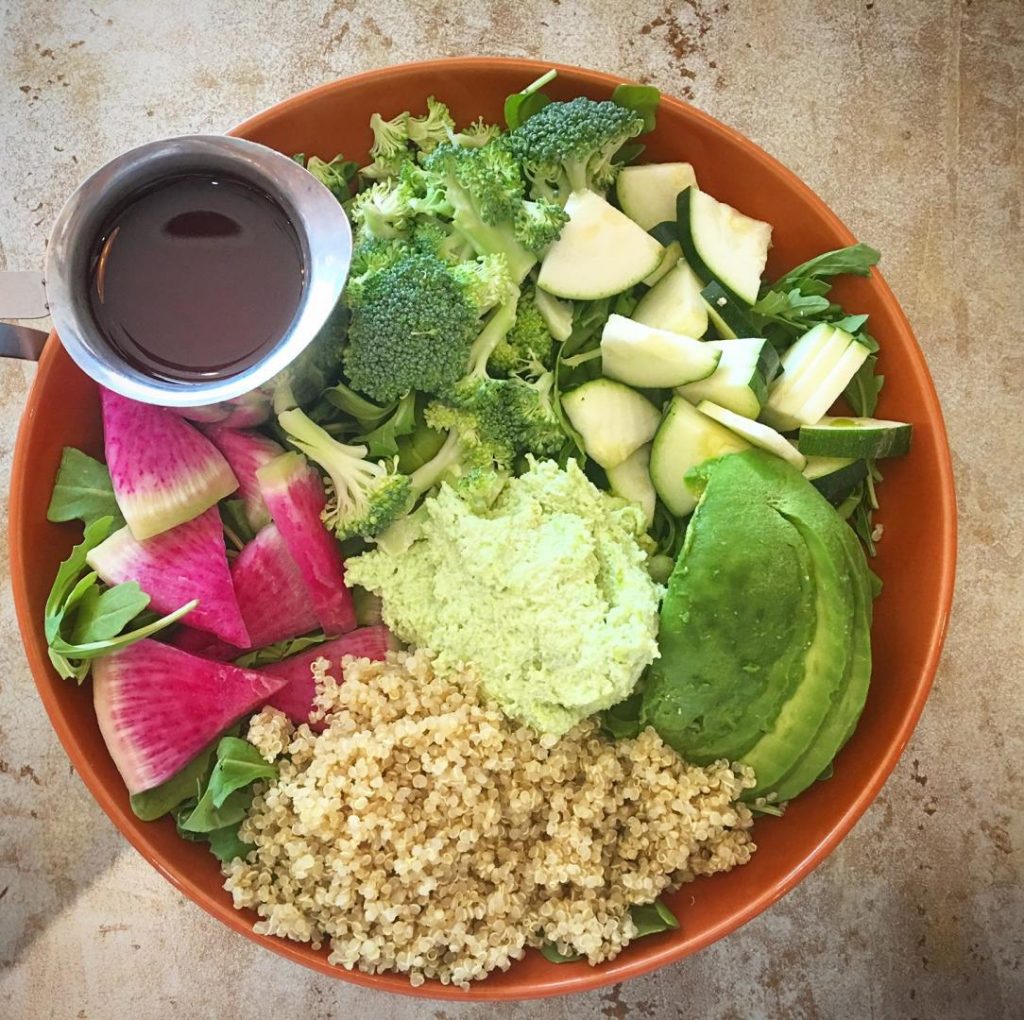 For lunch, they have one other item: a vegan falafel.
That being said, you can certainly modify a few of the other lunch items. We tweaked the Quinoa Crunch salad which is packed with goodness like broccoli, zucchini, avocado, arugula, and hummus and held the buffalo sauce since it's not vegan. You can also tweak the Tree Hugger made with quinoa, red and green peppers, spinach and onions by holding the chipotle aioli.
If you're more on the juice kick, all of their three juices are on the vegan list. And, over at the Summerlin location, they have smoothies that are made with soy milk, too.
Downtown Las Vegas, 500 S. Main St., 89101 | 702.380.8229
Open daily 8 a.m. – 2 p.m.
Downtown Summerlin, 10970 Rosemary Park Dr., 89135 | 702.982.0770
Open daily: Monday – Friday: 9 a.m. – 7 p.m., Saturday: 8 a.m. – 8 p.m.; Sunday: 8 a.m. – 7 p.m.
*Support the businesses who support vegans! Check out our Deals section with special offers on Las Vegas restaurants, health and wellness services, national products and more!
Diana Edelman is the founder of Vegans, Baby and has emerged as the face of plant-based dining in Las Vegas and the leading plant-based restaurant consultant in the city. She spent a decade in the travel blogging world before switching gears to work in elephant rescue in Thailand. Diana travels the world to meet chefs and try vegan food, as well as speak at events focusing on travel, tourism, veganism and entrepreneurship. She's a partner with the prestigious James Beard Foundation and curates their Vegas Vegan Dinners at the James Beard House. Diana is also a partner with Life is Beautiful, curating the all-vegan Farm Stand.